Mason Korea welcomed George Mason University President Gregory Washington for his inaugural visit to Mason Korea last week. President Washington's intensive weeklong visit was packed with key events and meetings with the Mason Korea community and external partners.
Body
Meeting the Mason Korea Community
Mason Korea is a campus of George Mason University, but a campus 7,000 miles away from Mason's home in Virginia does present challenges—as well as opportunities. 
President Washington's visit demonstrated his and the university's commitment to bringing together Mason's campus in Korea with its U.S. campuses. In that spirit, Washington met with multiple constituencies of the Mason Korea community: students, faculty and staff, leadership, advisory board members, and alumni both of the Korean campus and Mason's U.S. alumni living in Korea.
In these meetings and events Washington stressed the enormous growth of the university. He shared his expectation for Mason Korea to be part of that growth, along with his hope to see more opportunities for students, faculty, and staff to study, conduct research, and work together across Mason's campuses in Korea and in the United States.
Four of Mason Korea's U.S.-based advisory board members accompanied Washington on many of these engagements. Virginia State Senator Chap Petersen, who passed the legislation to establish Mason Korea in 2010; Tracy Comstock, president of SilverLine Realty and Investment; Hyun Lee, executive PR director for the Organization of Korean American Women; and SoJung Lim, Fairfax City Council Member—all Mason Korea advisory board members visiting from the United States—joined Washington in seeking to advance the development of Mason's campus in Korea.  
Events and Partnerships
While at Mason Korea, Washington kicked off the fall semester by welcoming new and returning students at the campus's 2022 Fall Convocation. He told students that Mason and Mason Korea prepare them "to deal with many of the grand challenges affecting the world" and to see these challenges also as opportunities.
"You will indeed do great things and we will indeed be here to support and guide you toward that," he added.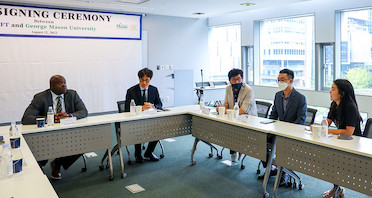 He also joined the celebration of the establishment of Mason Korea's Industrial-University Collaboration Foundation (IUCF), led by its director Mason Korea Associate Dean Shannon Davis. Through the IUCF, Mason Korea now has an organizational structure to accept and manage external funding from Korean government agencies and industry.
"The IUCF solidifies Mason Korea's role as an active research and civic engagement campus alongside Mason's U.S. campuses," Washington said at the opening ceremony.
Several meetings and events furthered that commitment to research and civic engagement. 
President Washington signed two MOUs on behalf of the university during his visit: one with NCSoft, a leading Korean gaming company with which Mason Korea—which offers Mason's Computer Game Design, BFA—has been working closely with during the past two years, and one with Hanguk University of Foreign Studies, a top-ranking university in Seoul, whereby the two leading universities agreed to explore areas for collaboration.
Washington likewise met with executives of Samsung Biologics, including its Executive Vice President and Chief Quality Officer Sam Machour, a Korea-based Mason Korea advisory board member and a generous donor to Mason Korea. At the meeting, Washington, Mason Korea leadership, and the Samsung Biologics executives discussed areas of potential collaboration. Songdo, Korea, where Mason Korea is located, is a major hub for bio manufacturing, with many large biopharmaceutical companies located a short distance from campus.
Executives of KEPCO, South Korea's largest electric utility and a Global Fortune 500 company, met with Washington and members of the campus' senior leadership to discuss further areas for collaboration. Mason Korea is currently offering an executive education program to some of KEPCO's international managers. The president additionally met with senior officials at the United Nation's Green Climate Fund, headquartered in Songdo, and the U.S. Embassy in Seoul.
Exploring Songdo and Incheon
In between events and meetings, there was time to enjoy some of the pleasures of Korea, including a tour of Songdo.
Washington and Matz, along with the U.S. advisory board members, also visited nearby Heungryunsa Buddhist Temple and the Memorial Hall for the Incheon Landing Operation during the Korean War. Nearly 100 Mason Korea students, faculty, and staff joined President Washington at a Korean baseball league game at a nearby stadium in Incheon.
Mason Korea's student band SKETCH sang the Korean national anthem at the game's start, conducted by Mason Korea Professor Kimberlie Fair. 
For more photos of President Washington's visit, click here.  
Read More About Mason Korea
In This Story
People Mentioned in This Story